Digital Lenses
With the advent of new technologies in manufacturing, digital lenses customize your prescription and the lens to give you the most accurate optics with the widest fields of view. But that's not all we do...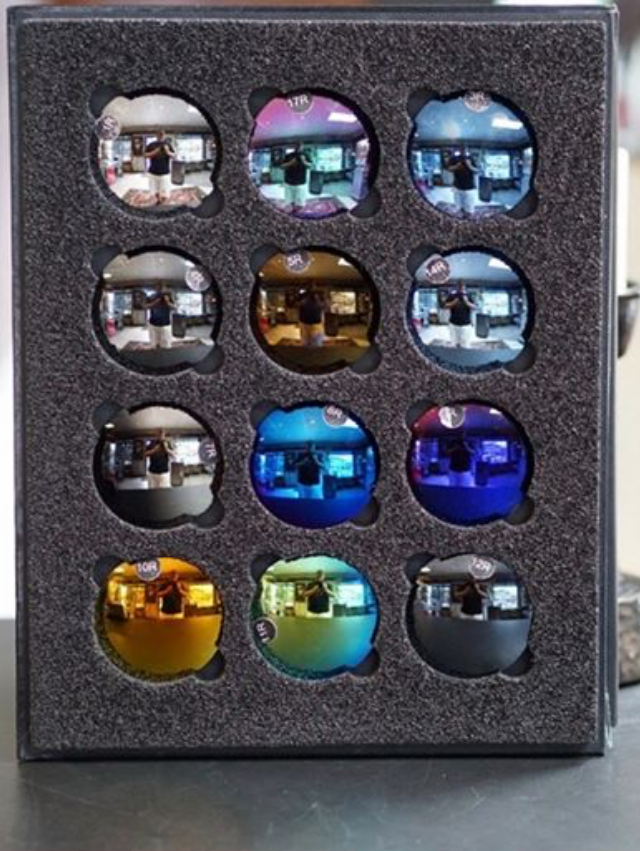 Progressive Lenses
We are the experts! With so many types available we can customize the progressive lens to your lifestyle as well as for easy adaption. Some of the newest progressives are designed with wider intermediate zones and reading zones that are adjustable for more comfort when viewing your hand held devices.
Mirrored Lenses
We have over 40 colors to enhance the look and effectivity of your sunglass lenses. Mirrors add additional 20% blockage and reflect the sun's brightness from coming through your lenses helping prevent squinting. But most importantly …. They look so freakin cool!!!!
Polarized Lenses
The best in sun protection by eliminating blinding reflective glare while offering maximum UV protection. These lenses are most useful against the suns bouncing glare off surfaces like water, asphalt, car windshields and snow. In other words perfect for everyday use.
Transition Lenses
The Transitions process automatically adjusts from clear to dark with the amount of available sun light, and can be done to almost any type of lenses. They help to protect your eyes from harmfull UV light, while reducing glare and eye fatigue.
Blue Blocker / Blue Filter
Though adequate blue light is necessary to normal eye function, increasing concerns about how excess blue light from LED display devices (computers, smartphones, tablets) are inducing photochemical damage to the retina. There are filters and coatings to help those who are on these devices often.
Some of the brands of progressives we recommend you may recognize. We can get any and all types as well.
Shamir: Autograph II & Autograph III
Varilux: Comfort Enhanced, Physio Enhanced, S, and the new X
Zeiss: GT2, Definity 2 & Definity 3
100% Warranties & guarantees always. Most Union plans & insurance plans accepted including: Eye Med.
Hi Index Lenses
Control the thickness & weight of your RX lenses. We have them all and recommend the appropriate one for you depending on your prescription, PD & frame size.
1.49 Original CR-39 Plastic
1.53 Mid Index & Trivex Unbreakable
1.58 Polycarbonate
1.60 Hi Index
1.67 Ultra Hi Index
1.74 The Highest & Thinnest made to date
Vantage Lenses
This lens material joins the versatility of darkening lenses of Transitions with the efficiency of Polarization once fully dark.