Meet the Roslyn Eye Centre Team
The Roslyn Eye Centre has a staff optometrist and licensed opticians to serve all of your eye care needs. When searching for friendly and professional eye doctors on Long Island, Roslyn Eye Centre offers experience and convenience.
The Roslyn Eye Centre was established in 1959 – and we've been serving the Long Island and TriState area with quality eyewear and exceptional service since we first opened our doors. Our name is synonymous with Long Island eye center.
We're called the "Biggest Little Eyeglass Store on Long Island" as we stock more than 50 brands of Adult Frames, more than 20 different brands of Teens and Tweens frames, and carry a full range of contact lenses and sports eyewear.
Our mission has always been to give our customers the largest possible selection of basic, designer, and fashion eyewear at affordable prices – and we cordially invite you to stop by and browse our selection.
Of course, just selecting your frame is only part of the process. We have a lab on-site which will deliver your prescription lenses quickly and with a full guarantee. The lab produces lenses of unsurpassed accuracy. But if you have a problem – we fix it – and we stand behind every product we sell.
Roslyn Eye Centre offers full service when you need an eye doctor in Long Island. In addition to our two on staff optometrists we also have four licensed opticians on hand to serve you – averaging 30 years of optical experience – and we are dedicated to helping you find exactly what you want in a Long Island eye doctor. No hard sell tactics at the Roslyn Eye Centre – just friendly, experienced eyewear experts.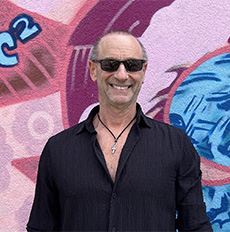 Gary Stone - Owner & Optician
Owner of the Roslyn Eye Centre since 1984. As a leader in the Optical World, Gary expanded and redesigned the Roslyn Eye Centre in 2005 to echo the cutting edge of frame styles and offer the most up to date lens technology available today. Gary's commitment and dedication to the patient is evident with every pair of glasses made for both young and old. It is his attention to detail and perfection that makes the Roslyn Eye Centre the best optical source you can find.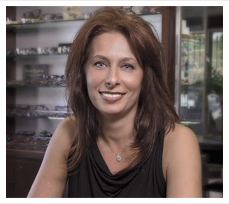 Marta Goleb - Manager
Marta joined the Roslyn Eye Centre as Office Manager in 2000. Marta is competent and knowledgeable in all aspects of the Roslyn Eye Centre. A sharp eye, Marta is happy to help with frame selections and knows what will make you look great!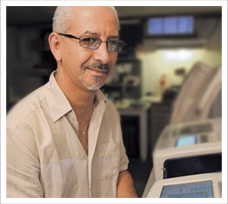 Ricky Mercado - Technician
Ricky joined the Roslyn Eye Centre in 1994 as the Head Technician and Lab Manager. Among Ricky's many responsibilities, he ensures the smooth running of the contact lens dept. Ricky's assets include being multilingual and knowledgeable in all aspects of lens technology. Ricky has a knack for bringing a smile to all and and when you ask him how he's doing – his usual answer is: "better now that I'm talking to you!" And he means it!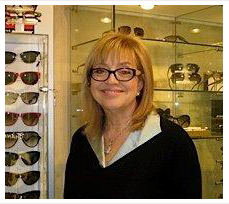 Barbara Unger - Optician
Barbara comes to us with a pedigree of experience. She was the previous owner of North Shore Optics of East Hills and Pildes Optical on Nassau Str & Queens Center Mall. She received her color & fashion training as an account manager for Ralph Lauren fragrances in Bloomingdales, NYC and beauty advisor for Estee Lauder and Revlon cosmetics. When you blend Barbara's color, contours, fashion, finance and corporate management skills plus her major of Public Health at Queens College she becomes the perfect addition to complement the team.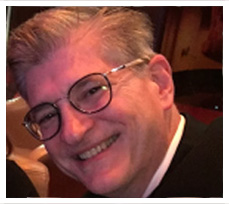 Mark DiMeo - Optician
Mark is a licensed optician since 1979 with dual certification in ophthalmic dispensing and contact lens fitting. As the owner of Mark Optical Lab for over 25 years, he built a reputation for high quality workmanship and developed an in-depth knowledge of optics and optical principles. The lab was a learning site for the Ophthalmic Tech program at Suffolk County Community College. He is a member of The Opticians Alliance of New York and The New York State Society of Opticians where he also served as Secretary, Treasurer, and Vice President for the Long Island chapter. Mark participates on the advisory board for the Vision Technology program at New York City College of Technology and was awarded the NYSSO Optician of the Year in 2015.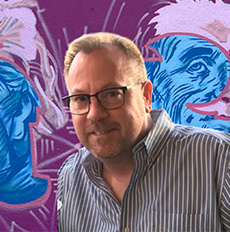 Kevin M. Flynn, F.N.A.O. - Optician
With over 40 years of experience, he brings a wealth of expertise and a passion for exceptional eye care to our practice. He was the owner of Vision Finders, an optical boutique, located in East Rockaway for almost 25 years. Within those years he served multiple terms on the Board of Directors for the New York State Society of Opticians. As a skilled optician, he is dedicated to providing personalized solutions, and ensuring every patient's vision needs are met with precision and care. Kevin is widely known for his vast knowledge of optics, meticulous attention to detail,as well as specializing in the latest lens technologies, and outstanding customer service.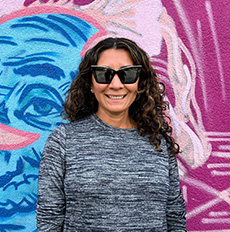 Hilma Mejia - Optician
Hilma is super excited to have recently joined Roslyn Eye Centre. She has over 20 years of experience in the boutique optical industry, joining us from Optics in Plainview. She loves helping patients feel confident and excited in their eyewear. Helping you choose the best eyewear optically and fashionably is what makes her work a pleasure. Outside of work, she loves to go hiking and spending the day at the pool with her nieces. Hilma looks forward to seeing you soon at Roslyn Eye Centre.
Steve Petsis - Optician
Steve has been an Optician Since 2007. He brings forward years of experience working in the lab and understanding optics. Aside from his charming personality, Steve has A keen eye for fashion, attention to detail, and vast knowledge, of lenses. Steve is excellent at working with children in our children's eyewear depart within Roslyn Eye Centre. Let Steve sculpt the best pair of glasses for your style and visual needs!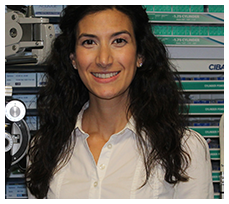 Dr. Michelle A. Battaglia-Capogna - Optometrist
Dr. Battaglia-Capogna is an affiliate doctor with The Laser Center in Garden City, NY for pre and post-op LASIK/PRK vision correction care. She performs comprehensive eye exams and contact lens fittings. Her contact lens specialty includes rigid gas permeable and soft contact lenses with astigmatism correction and multifocal designs. She is a graduate of The New England College of Optometry. Her prior position as a Research Analyst at the State University of New York College of Optometry influenced her decision to pursue a career as an optometrist. As a Research Analyst, she co-authored several posters and papers which primarily focused on the various technologies that currently aid in the detection, diagnosis, and treatment of optic nerve neuropathies and various retinal lesions. Her publications include a comparative article on numerous technologies utilized in the eye care industry and a case study on the usefulness of the Optomap retinal exam.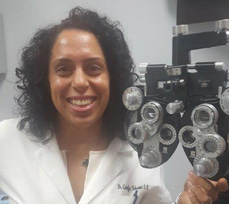 Dr. Tehrani - Optometrist
Dr. Carolyn Tehrani is a licensed optometrist who provides comprehensive vision and eye care services for adults and children. She has extensive training and experience in the treatment and management of ocular disease, pre and post LASIK and cataract surgery exams, dry eyes, as well as routine and contact lens fittings.
Dr. Tehrani received her Optometry degree from SUNY College of Optometry in 2006. After graduation she worked for a cataract and LASIK surgeon in NYC and Queens. Dr. Tehrani was the optometrist in the ophthalmology department of Wyckoff Medical hospital doing comprehensive eye examinations, emergencies and treatment of ocular diseases.
Dr. Tehrani loves her career and truly spends time with patients to solve whatever eye issues they have.
Our Location
360 Willis Ave

Roslyn Heights
,
NY
11577
(516) 484-8899
Follow Us